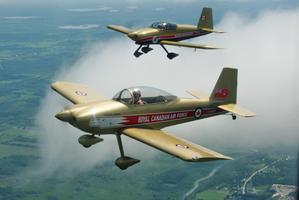 Our RV–8 is painted in the colours of the RCAF Golden Hawks, who flew six Canadair Sabres as Canada's national military formation aerobatic team from 1959 to 1964. Canada had no national military formation aerobatic team for three years after the Golden Hawks were disbanded in 1964. 1967 was the 100th anniversary of the creation of Canada, and the RCAF was tasked to perform flying demonstrations across the country. They decided to form a new team, the Golden Centennaires, flying 10 Canadair Tutors. They toured the country, along with two restored Avro 504Ks, a CF–101 and a CF–104.
Phil's RV–9A is painted in Golden Centennaire colours.

---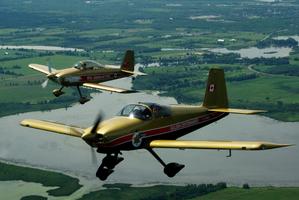 Phil and I decided many months ago that it would be worthwhile to organize an air-to-air photo shoot of our two aircraft together. Easier said than done, as we needed Phil and I, plus a photographer, and a photo aircraft and pilot, and an experienced formation pilot to fly with Phil. All three aircraft had to be serviceable, all people had to be available at the same time, and the weather had to be good. It finally came together at the end of June - these images were taken by experienced aviation photographer Nick Wolochatiuk.
After taking the photos, Nick promptly went on vacation. Then another vacation. Then he forgot to mail the CD. Today, finally, the long awaited CD with the digital files arrived in the mail.