Stanley Sport Aviation has held a fly-in on the Labour Day long weekend, every year since 1972. It is the biggest general aviation event in Atlantic Canada, and attracts fly-in and drive-in visitors from all over. I had wanted to get down to Yarmouth for a few days to visit my folks, and the biggest hole in my schedule was over that weekend, so I planned a trip to Yarmouth, with a side trip to Stanley. My dad has flown or drove to the fly-in for many, many years, so he was happy to come along.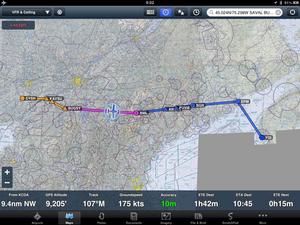 The trip to Yarmouth on Friday morning took 2:53, flying IFR at 9000 ft.
---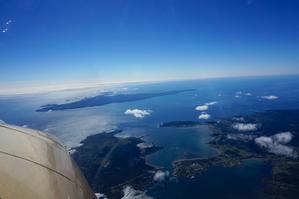 The weather was good for most of the trip, as seen her as I am approaching Grand Manan, before hoping across the Bay of Fundy. I climb up to 12,000 or 13,000 ft (depending on the direction of flight) for the crossing to ensure I'm within gliding range of land the whole way.
It was about 1300 ft overcast at Yarmouth, so I had to fly an RNAV approach to get in, but I had the runway visual about 5 miles back. We had a quick lunch, packed Dad's tent and sleeping bag in the aircraft, then blasted up to Stanley, under 1500 ft overcast the whole way up. Stanley had low clouds and high winds for most of the day, and we were one of the few aircraft that made it in on Friday. There was a large drive-in contingent though, with many dozen campers, trailers, RVs, etc.
---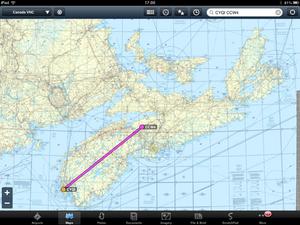 120 miles at 1000 ft is a long ways at low altitude, and I think I hit every bug in western Nova Scotia. It took a fair while to clean off the leading edges and windscreen after we arrived. We set up our tents in a small clearing in the trees, to get out of the wind.
---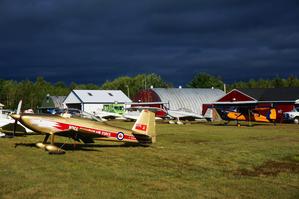 Our aircraft was tied down in the second row, and Paul Tuttle's beautiful RV–8 was tied down in front of his hangar, in the first row.
---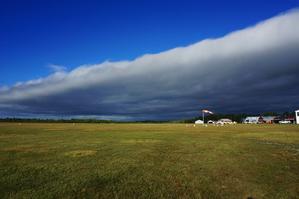 The wind blew the clouds through about 6 PM, and the skies were clear for the rest of the evening. Stanley is way out in the boonies, with very little light pollution. It had been many years since I saw a night sky with so many stars, and I cannot remember the last time the Milky Way was this noticeable.
---
We enjoyed the bon fire, corn roast and live music on Friday night. It was good to talk to a number of old friends, and to make a number of new ones.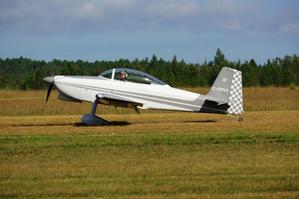 Saturday morning a number of the local pilots took turns showing off their aircraft, including Paul in his RV–8.
---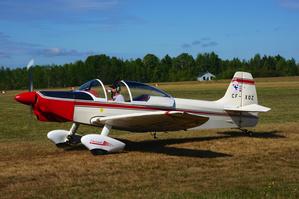 There were quite a number of very nice aircraft there, including this beautiful Piel CP–311 Emeraude, a wooden design from the 1950s.
---
Saturday morning, the early morning fog in Stanley cleared off nicely, but the weather report in Yarmouth was a ceiling of 100 ft overcast, and it was forecast to stay that way all day. The SW wind, which would keep the fog over the airport, made the forecast very believeable. Drat. The weather in Stanley was forecast to be pretty terrrible from Sunday onwards, with steady rain. There was a risk that the field would get too soft if we didn't get out on Saturday. Double draft.
Fortunately, the fog moved to the west in the late morning, and the Yarmouth airport cleared up. We didn't know how long that would last, so Dad and I had a quick lunch, then packed up and departed. The fog bank was 1.5 nm west of the airport when we landed, and the airport went below VFR limits 1:10 after get got there, and below IFR approach limits not long after that. That was close.
My first attempt at a landing in Yarmouth was one of my worst ever. I was a bit tired, and didn't focus enough during the approach and flare, resulting in a bounce. I tried to catch it and get a good touchdown after the bounce, but got an even bigger bounce. The third bounce was even worse. Not liking that trend, I poured the coals to her and went around. I paid much more attention on the next attempt, and was rewarded with a perfectly smooth touchdown. Oh well.