I talked to Aerosport Power on Friday about my engine issue. They gave me three different quotes to get me a healthy engine again:
repair the engine, with the original configuration tappet and cam
repair the engine, modify it for roller tappets and cam,
trade the engine in on a new engine with roller tappets and cam.
Option 3 is much, much more expensive than options 1 & 2. The difference in cost between options 1 & 2 is small enough that it seems like the best plan is to convert the engine to the roller tappets and cam.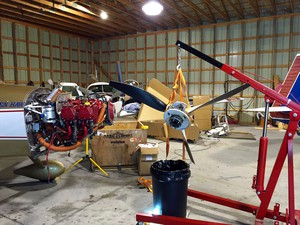 I spent most of the weekend at the hangar, removing all the things connecting the engine to the airframe, like peeling an onion, layer by layer.
---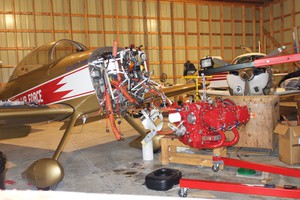 Finally, late Sunday afternoon, I was able to pluck the engine free. I need a bit more time to remove some of the accessories on the back of the engine, then I'll put it in the crate and send it on its way to Kamloops.