I spent several days last week in Sidney, BC (Sidney is just north of Victoria, on Vancouver Island), working with Viking Air on a Twin Otter project.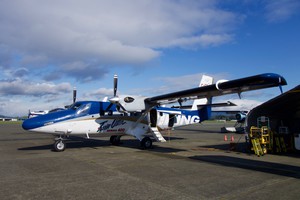 The Twin Otter is an iconic Canadian twin-engined bush aircraft, that was built by de Havilland Canada (DHC) from 1965–1988. The original aircraft were in such high demand that wrecked aircraft were being rebuilt around the original data plate. There was obviously a market for additional Twin Otters, so Viking bought the rights to the design, and restarted production in 2010. The current production aircraft are essentially equivalent to the ones built by DHC, except for a major avionics upgrade and a different variant of the PT6A engine.
The Twin Otter is an amazing aircraft - it flies like a large Cessna 172, but has a very well designed wing and flap system that allow it to get into and out of very short landing areas.
I'll be doing several more trips to BC to fly the Twin Otter before we get to the end of this project. It should be a good spring!