Here I am riveting the left leading edge. The leading edge skins are riveted to the nose ribs in a cradle. Later, the whole assembly is riveted to the rest of the wing.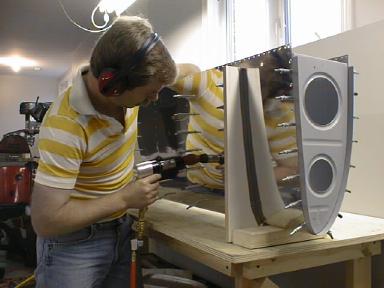 Read on for more.
Here is the left leading edge after riveting to the nose ribs. You can see the reflection of the rest of the wing in the leading edge skin.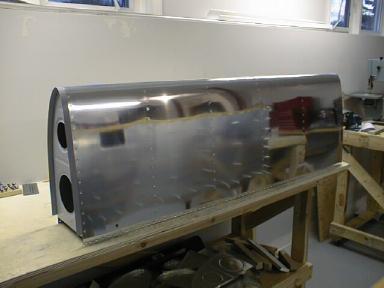 I managed to drop the bucking bar and make a small ding in the top side of the right leading edge :-(. I think I can tap the ding a bit to at least make it be a depression instead of a bump. I can fill a depression when I paint the exterior.
Oh well, I had already given up on making a show plane. I just want an airworthy aircraft that doesn't look too bad. Maybe I can at least have one good looking side, so I can sort of lead visitors over to that side, and make sure they don't see the other one ;-).