The basic aircraft design does not include provisions for landing or taxi lights, but several builders have produced installation kits that they sell.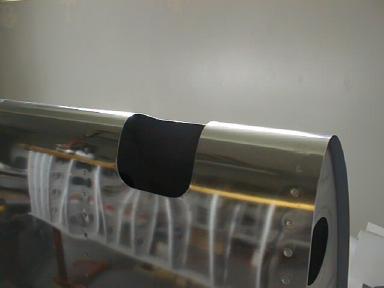 I bought two landing light kits from Duckworks, owed by RV-6 builder Don Wentz, a.k.a the "Duck". The Duckworks lights mount in the most outboard bay of the leading edge. A template is provided to show where to cut the hole to let the light out. An automotive quartz-halogen driving light mounts in an adjustable bracket which attaches to the ribs at each end of the bay.
I am extremely impressed with the quality of the parts, and the instructions are clear and complete. Van should hire Don to rewrite his construction manual.
Here you see the bottom side of the outboard end of the left leading edge. Don provides a paper template to use to draw the cut line on the skin.