I got back on Friday from two weeks in Brazil. Great trip, but it looks like this is the last one, as we closed off all the outstanding items on the Embraer ERJ 170/175/190 projects.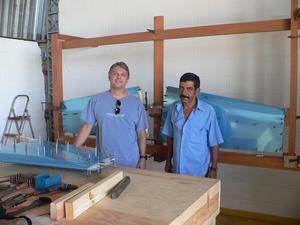 While we were in Brazil, I visited Gilberto Cardoso's RV-7 project. Gilberto previously built a One Design (wooden single seat aerobatic monoplane), but decided that the RV-7 is a better match to his needs.

---
Gilberto showed us Joseph Kovacs K-55 project. Mr. Kovacs was the chief designer for Embraer for many, many years. He was responsible for many aircraft, including the Brasilia, Tucano, AMX and ERJ-145. After retirement, he designed the two seat K-51, which looked like a small taildragger Tucano.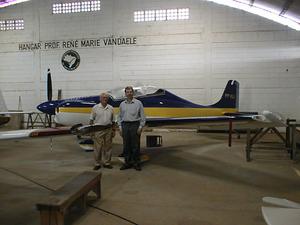 We met Joseph Kovacs, and saw the K-51 on my very first trip to Brazil, in 1999.

---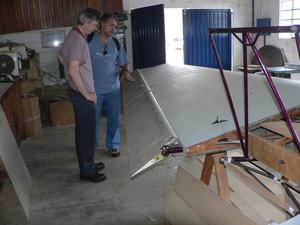 Now he is working on the K-55, which will be a single seat unlimited aerobatic monoplane, with an unusual flight control system. The inboard and outboard ailerons also move when the stick is move fore and aft. If you pull the stick aft, the ailerons deflect down, to increase the wing's lift.

---
This weekend I did a couple of rounds of fill, sand and prime on the wheel pants, upper landing gear leg intersection fairings and the spinner.
I'm heading back on the road today, getting back Thursday night. Oh well.