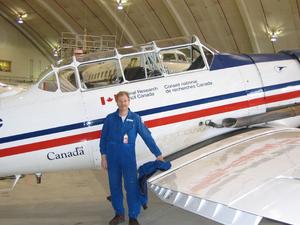 I had a very interesting and enjoyable day today - I did a flight in the back seat of the NRC Flight Research Laboratory's Harvard (known as a T-6 in some parts of the world). This Harvard was built in 1952, and has spent most of its life as a flight test aircraft. It is probably the only Harvard in the world with an Inertial Reference System.
NRC is currently running a flight evaluation of a novel non-linear airspeed and altitude tape format for EFIS or HUD displays. The rear cockpit has a large flat panel display that covers most of the instrument panel. The display is powered by a PC computer system, and it currently displays a large EFIS type display, with vertical airspeed and altitude tapes. I am one a large number of evaluation pilots who will be stuck "under the hood" and have to fly various manoeuvres using linear and non-linear display formats, so the performance can be compared.
The weather didn't cooperate today, so although we got airborne, we never found a suitable test area - too much low cloud. It was a hoot to fly the Harvard though (I only flew it up and away - Rob Erdos had to do the take-off and landing, for obvious reasons). The Harvard is fairly large, and built like a tank. It has a huge amount of adverse yaw, and needs a lot of rudder anytime you move the ailerons. I'll get another shot at this sometime in June - hopefully the weather will workout next time, or I might have to do this again :). It was good to fly with Rob again - we hadn't flown together since we were both at the Aerospace Engineering Test Establishment, way too many years ago.

---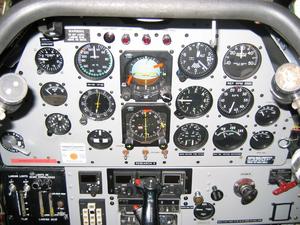 The front instrument panel has been updated to give it a very nice layout, with relatively modern instruments and avionics.

---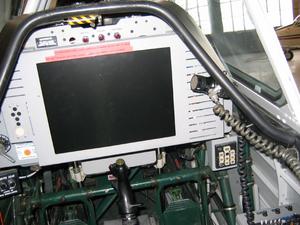 The rear instrument panel is dominated by the large flat screen display.

---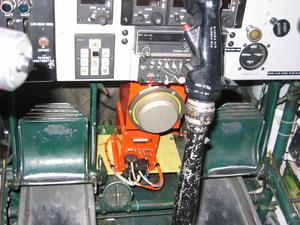 The Inertial Reference System (and one of the two computers?) are located in the front cockpit between the pilot's feet.