Today I installed the items in the right side of the fixed instrument panel - the Hobbs meter, the ELT remote control and the compass. I finished riveting the F-804 channels, then reinstalled the rails that the canopy slides in and installed the canopy.

---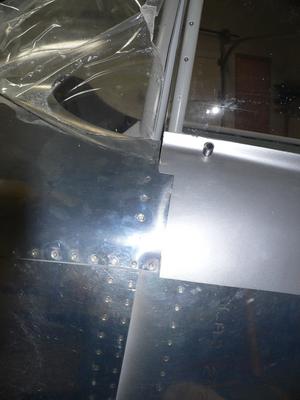 I found that the front of the fibreglas canopy skirt interfered with the aft edge of the F-821 skin. I guess I must not have had it in place when I was working on fitting the canopy. I had to trim both the skin and the canopy skirt. The cutout in the skin will be covered up with the fibreglas that fairs in the windscreen, so the cutout won't be visible.

---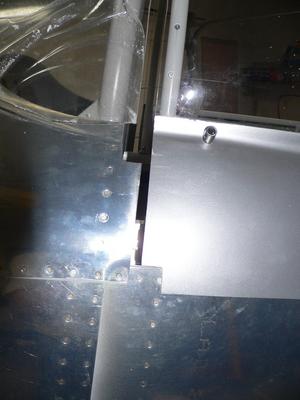 I'll have to put some Ultra-High Molecular Weight (UHMW) tape on the inside of the edge of the skin to keep it from scratching up the forward edge of the canopy skirt. The UHMW tape is very tough and slippery.

---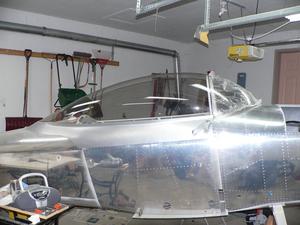 Then I attacked the windscreen. The F-821 forward skin wasn't in place when I was working on the canopy, so I hadn't had to trim the bottom of the windscreen. I did several rounds of check and trim, taking a bit off at a time, as you can't put the plexiglas back on after you cut it off. It was hard to get the windscreen back in exactly the same place every time I fitted it, so I eventually gritted my teeth and drilled a hole at the top centre so I could use a cleco to anchor the windscreen to the top of the canopy bow.
I've still got a few more rounds of trimming to do, then I'll drill the rest of the holes for the screws that fasten the windscreen to the canopy bow.