I attacked the pitot tube line connection at the pitot tube this week. I originally had a fairly complicated plan that I had borrowed from another builder web site, with many different fittings required to make the transition from the pitot tube to the nylon pitot line. Then, when I pulled out my tray of #4 plumbing fittings, I spied a fitting that I had forgotten I had, and I realized that it would allow me a much simpler transition.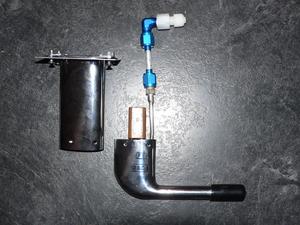 I'm using a pitot tube mount I purchased from Warren Gretz at Gretz Aero. The pitot line connection on the pitot tube will end up inside the pitot tube mount, so it needs a short piece of aluminum line with flared fittings on each end to allow a connection in the clear above the pitot tube mount.

---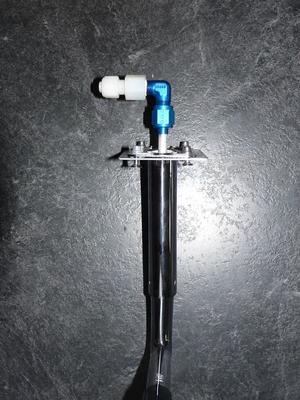 I connected an AN822-4D elbow at the top of that short piece of aluminum line, with the pipe thread on the AN822 screwed into a 266-N female Nylo-Seal connector. The nylon Nylo-Seal pitot line will connect to the 266-N connector.

---
I managed to drop the pitot tube, and broke the brown (Bakelite?) electrical connector. I glued it back together with 5 minute epoxy, and an aluminum reinforcement. But, now I am concerned that the high temperature from the pitot heat will soften the epoxy. So, I'll purchase a new connector. So far, the only place I have found that sells them is Aircraft Spruce, and that little connector costs $58. Drat.
Tonight I also completed two more little things on the big To Do List, but I found two more that I needed to add - net change one item.