Sunday a week ago, the day after moving the fuselage to the hangar, I spent a few hours installing and torquing bolts on the RH fuel tank, and trying to mount the ailerons. I had a tough time getting washers and spacers in place where the aileron pushrod connects to the aileron, then when I finally had them in place I discovered that I didn't have the correct nuts at the hangar.
I was on the road for two nights last week, and the weather wasn't great the other evenings, so I didn't get any work done at the hangar.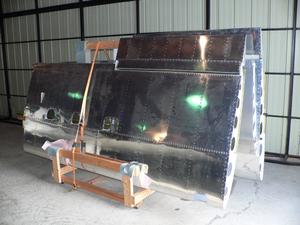 Today, I spent about seven hours at the hangar. I installed and torqued the bolts on the LH fuel tank, then mounted the ailerons. It went much better this time, as I made liberal use of duct tape to help get various washers and nuts in place.
The plans call for AN365 elastic stop nuts on the various bolts in the control system. This meets the accepted criteria, as if those nuts are properly torqued, the spherical rod end bearing is head fixed, and rotation occurs around the bearing, and there is no tendency for the bolt to turn. But, if one of these nuts does come off, there could be a loss of control, so I opted for a "belt and braces" approach, by using MS17825 self-locking castle nuts. These self-locking nuts are also secured with a cotter pin, giving two independent locking means.

---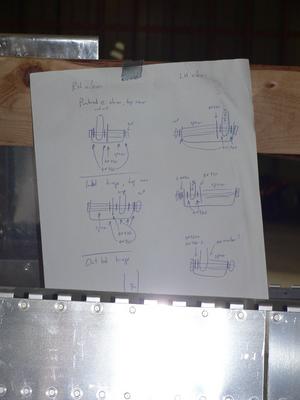 The first time I mounted the ailerons, a long, long time ago, I recorded the exact configuration of washers, spacers, etc needed at each joint. This record proved invaluable today.

---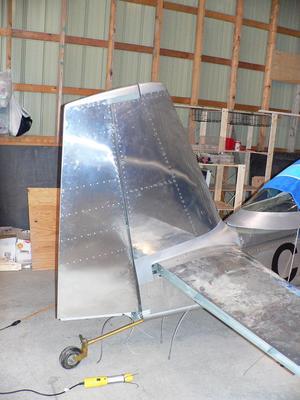 Next, I bolted the rudder in place.

---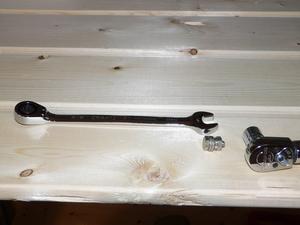 There isn't much room to work with when torquing the nuts at the hinges. I made good use of a ratcheting box end wrench, coupled to the torque wrench via a nut and bolt combination, with the whole thing duct taped together. Of course the setting the torque wrench must be decreased to account for the extra length on the end of the torque wrench.

---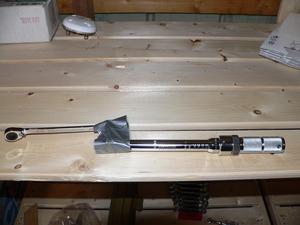 Duct tape - a builder's best friend.