I spent several hours reinstalling everything on the aircraft - spinner, plenum chamber, cowling, ELT, landing gear leg fairings, wheel pants, first aid kit, rear seat riser, seats, seat belts, all missing screws, etc. On Saturday I borrowed a very nice set of Intercomp ACII scales from Ron M., the Aircraft Maintenance Engineer based at Smiths Falls, and weighed the aircraft. Intercomp's main business is making race car scales, and they apparently are the official scale supplier of scales for many automotive racing leagues. The scales I borrowed were appropriately calibrated for use with certificated aircraft, so I am comfortable that my weight and balance is accurate.
I had to close the hangar door during the weighing, to ensure that any wind did not affect the results. It was really, really hot inside that closed hangar, so I was really looking forward to a cold beer when I got back home.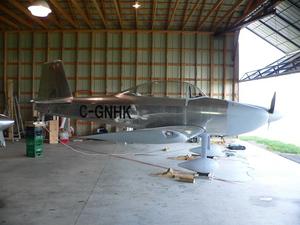 The aircraft weighed a bit more than I hoped, but the same could be said about me. I was hoping for a weight around 1150 lb, but it weighed in at 1177 lb. This is with the oil sump filled to capacity (8 US quarts), all fairings, etc. I forgot to remove the pitot tube cover, but it's weight is negligible, and counterbalances the ELT antenna that I had forgotten at home. My aircraft has a lot of extra equipment, which helps explain why it is so heavy - full IFR panel with second navigation radio, heated pitot tube, wing leveler, heavy IO-360-A1B6 engine, Hartzell constant speed prop, inverted fuel and oil systems, firewall thermal insulation, leather seats, cockpit sidewall upholstery, baggage compartment tie downs, etc.
I weighed the aircraft with and without landing gear leg fairings and wheel pants. It weighed 1170 lb without all the fairings, which is the configuration that it will be in for the first few flights.