I passed my proposed panel layout to a couple of coworkers to get their comments. They pointed out that I might have problems with the magnetic compass as it was pretty close to my electric Directional Gyro, and the electronic engine instruments. I posted questions on the RV-List, and the rv8 list - the answers indicated that while some people manage to get their compasses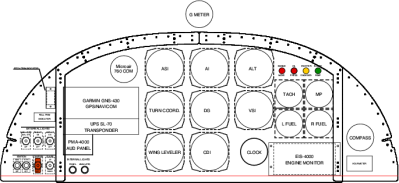 to work OK in such a location, many others have problems. Everyone who put the compass on the sides of the panel seemed to get by OK. So, I'll punt my vent to another location under the panel, and move the the compass to the right sub-panel. I moved the switches that were on the right subpanel to a second row on the left side.
I'll also lower the EIS-4000 engine monitor about an inch. That'll line up the lower right screw hole in its face with one of the screws that holds the centre portion of the instrument panel in place. It'll also make a bit more room for the tachometer and manifold pressure. My original layout has the MP gauge infringing on the flange that the instrument panel mounts too - I had planned on cutting away part of that flange but it would be better to lower the MP and tach.