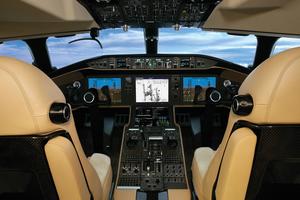 I was on the road for four days last week, in Wichita for the first ground test evaluations of the new Rockwell Collins Proline Fusion (550 kB PDF) avionics suite that is the main element of the Global Vision Flightdeck update on the Global Express business jet. This new avionics suite looks extremely promising, but as is typical at this early stage, there is a lot of work to do to fix bugs, add missing functionality, etc.
Saturday the weather at home was quite a bit better than forecast, so Terry and I headed to the airport. She had made a second version of the fabric air dam to block air coming in around the aft canopy skirt. The first version worked quite well, but there was still one tiny air leak right in the middle, at the canopy rail. The first version of the air dam was also slightly too small on all dimensions - it barely fit. Terry made a larger version, with an extra flap of fabric in the middle that would hopefully stop the air leak at the canopy rail. We installed the second version early Saturday afternoon, intending to do a test flight to see how well it worked. Unfortunately we discovered that Terry had overshoot the dimensions in a big way - the second version was way too large. Somehow an instruction to add 1/4" on the edges got translated into 1 1/4". Drat. Standby for version three, maybe next weekend.
I really wanted to get a short flight off, to check out the two ILS receivers. Confirming the ILS receivers were working properly was the last item I needed to do before the aircraft was ready for IMC flight. Terry wasn't terribly interested in ILS performance, and she had brought her Sony Reader with a book that was itching to finish, so I launched by myself. I zipped over to Ottawa and did an ILS approach to runway 32. A Canadair CRJ was on my tail on final, so I shot the ILS at 160 kt until short final. I did left/right and up/down deviations which confirmed that both the [GNS 430W] and [Narco 122D] ILS receivers were working perfectly. Then a quick trip back to Smiths Falls - 0.5 hrs total.
Now that I know all the aircraft systems are working properly, I need to do some hood time to make sure the pilot is up to the task of flying this thing in the clag.