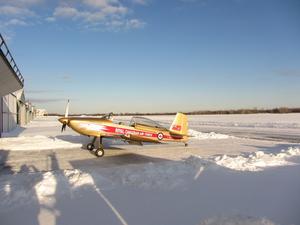 Winter has definitely arrived, so it seems like I'm spending half my time at the airport clearing snow. Last weekend the snow blower failed just before I finished clearing between the hangar and the taxiway, so I had to complete the job with a shovel. I did get flying with the temperature at -17°C, and with half fuel. The aircraft was a veritable rocket ship at the light weight and cold temperature, with the VSI showing 2600 ft/mn during the initial climb. Vertical eights were very easy (note that unlike the graphic shown at the link, I do a half roll between the two loops, so both of them are inside loops). The one problem I had last weekend is it was so cold that the O-rings in the fuel tank caps were so stiff that I couldn't get the caps off. Fortunately I didn't need to refuel. I knew I had half tanks at the end of previous flight, and the fuel gauges still showed half tanks, so I was comfortable going without looking inside the tanks.
I tried out the Drift HD170 Stealth video camera I got for Christmas (thanks Terry!) during this flight. The camera worked well, but I need to come up with a better way to mount it before I publish any videos. My first attempt at a mount put it too low in the cockpit, and it wasn't solid enough to prevent a jello effect in the video. I've got a couple of ideas for better camera mounts, but it'll take some more hardware and a few hours work to implement them.

---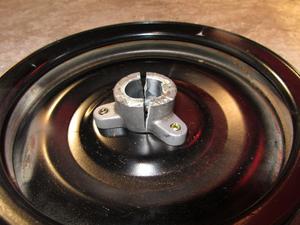 Yesterday morning I went out to the airport to troubleshoot the snow blower. I was hoping the problem was a broken shear pin in the drive system, but I wasn't so lucky. It turned out that there had been a major mechanical failure - the hub in the drive pulley for the auger and impeller had split. The local dealer didn't have the parts to repair it, so I had to clear away a week's worth of snow by hand. Hopefully the parts will be in by next weekend. After all that work clearing snow I really enjoyed the short flight I did when I finally got the snow moved out of the way.