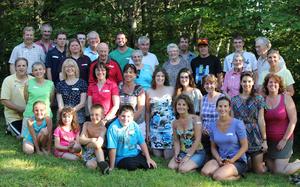 It's been a crazy two weeks. We had two of Terry's sisters in town for a week, then we flew to Yarmouth, Nova Scotia for a Horton family reunion over the last weekend. The reunion was great - I talked to cousins I hadn't seen in over 30 years - I left home to join the military the day after my high school graduation in 1978, and have only been home for a few day a year since. My brother also left home shortly after high school, so this was the first time since 1985 that my brother, sister and I have been all at home at the same time. It was a great weekend.
We flew down on Friday afternoon, and flew back home today. Both flights went very smoothly - 2:42 to fly down, and 3:11 to fly home (roughly 7 hours, door to door, including driving to and from airports). This sure beats driving (about 18 hours, including a ferry ride), train + rental car (almost 48 hours) or airlines + rental car (about 7 hours door to door).
I did manage to do the recent Trio autopilot servo "Mandatory Field Change" before Terry's sisters arrived.
The one big downer is that this weekend I somehow managed to crunch the lens of my new Canon SX 230HS digital camera. Now the sliding door that covers the lens is bent, and the cover no longer closes. Drat!