We had another good weather day on Saturday. You never know when the next decent day is going to be in the winter, so I went flying.
I had noted on previous flights that the indicated airspeeds for a given power setting were several kt higher than I was expecting, and I wondered whether the engine is making more power than it used to, or whether something else was going on. Static system leaks in RVs make the indicated airspeeds read too high, so that was a possibility. Before going flying I did a static system leak check, and was very happy when I found that my static system was still tight as a drum.
I went flying in the morning, hoping to do some cruise performance testing, to get a better handle on how the speeds vs power compared to my old data. But, I never found smooth enough air, so I gave up on that.
After lunch I met with Martin Leroux, who is thinking about building an RV–7 or RV–8. He used to fly a CAP 10, and was finding Cessnas dreadfully boring to fly. I fully understand that - the prototype CAP 10B was one of the many aircraft I flew when I was at EPNER (French test pilot school) for a year - it was a wonderful flying aircraft. He was interested in RVs, but wasn't sure whether he should build a side-by-side or tandem model. It turned out that Glenn C. was getting ready to go flying in his RV–7A, so Martin had the chance to try out the left seat of a –7A, and then the front seat of our RV–8. Then I took him flying. We we did some aerobatics, and then we met up with Glenn to do a few minutes of formation flying. Now he is sure he wants to build an RV–8 :)
---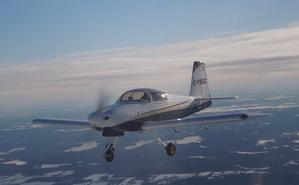 Martin took this great photo of Glenn's RV–7A.
Photo copyright Martin Leroux, 2013. All rights reserved.