I got an iPad Mini for Christmas, and the hardware needed to mount it in the aircraft arrived this week, so today I finally tried it out in the aircraft.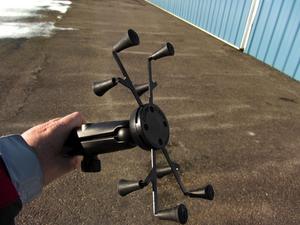 A RAM X-Grip II holds the iPad Mini firmly in its spring loaded grip.

---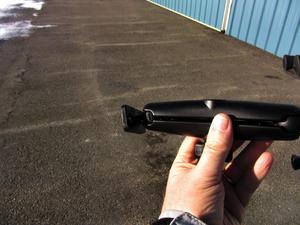 I bolted a 1" ball to the left side of the cockpit and a 6" arm connects the ball and X-Grip together.

---
This shot of the iPad in the mount also hints strongly at potential glare.

---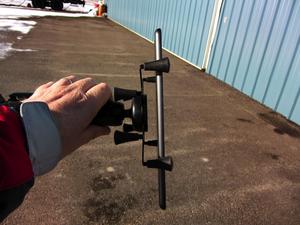 The soft rubber tips on the X-Grip arms firmly grip the sides of the iPad.

---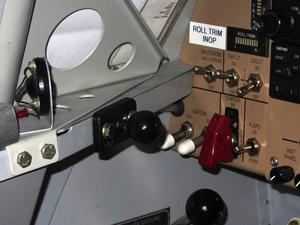 The 1" ball is mounted high on the left side of the cockpit.

---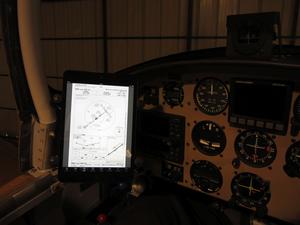 One potential mounting position, trialed in the hangar. This one put the iPad Mini in a good viewing location, but partially hindered access to the knobs on the left side of the Garmin GNS–430.

---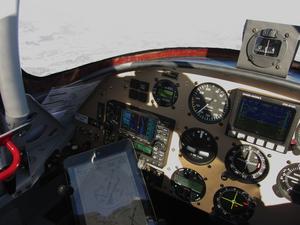 Today looked to the best weather day for the next little while, so I took a day off and went flying to try out the iPad Mini airborne. I ripped down to Kingston to do an NDB approach, then over to Brockville and then back to Smiths Falls. The 116 nm triangle took 1:02 airborne, including a full procedure instrument approach at Kingston, two touch and go landings at Kingston and one at Brockville.
This lower location provides better access to the GNS–430.
I concluded that the iPad Mini is a definite improvement over the full size first generation iPad I was using, on a kneeboard. But, I don't have the perfect setup yet. The long arm between the ball and X-Grip allows quite a range of locations, but the angle of the ball isn't ideal. Some desired iPad locations simply aren't possible with the current angle of the ball, as the arm jams up against the stud that joins the ball to the base. I may need to come up with a way to mount the ball so it is angled aft, to better align with the arm. I also need to add an anti-glare screen protector.