I finally gave up on mounting my iPad Mini on the side of the cockpit, as glare was always a problem. Glare had not been a major issue with my first generation iPad on a kneeboard, so I decided to do the same with the iPad Mini. I was using a MyGoFlight iPad Kneeboard Sport with the original iPad, and it worked well, but it was pretty expensive ($100) for a piece of molded plastic. I didn't relish spending another $100 for one for the iPad Mini, and their kneeboard wasn't going to be released until Sun n Fun. I wanted a solution now.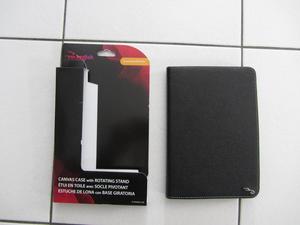 On a whim, I went to Best Buy, to see if they sold any cases that I could modify. Terry spotted a rather ugly, but utilitarian Rocketfish Canvas Case for iPad Mini.
---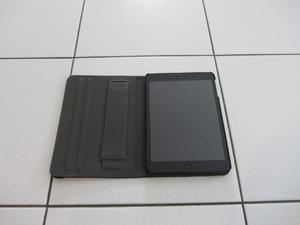 If you fold it open, there is an elastic hand strap inside the cover, designed to slip over your hand. Another elastic strap holds the cover folded back.
---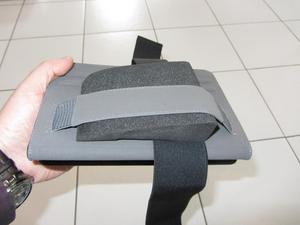 I slip a strap with velcro through that hand hold, and use that to secure the case to my thigh. The hand strap is stretchy enough that I could also insert a foam wedge to angle the iPad a bit towards me.
---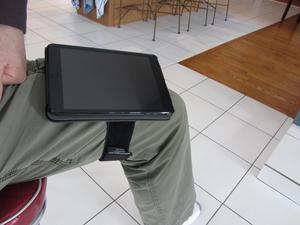 ---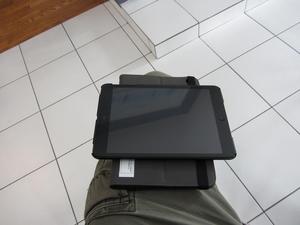 And to top it all off, the plastic clip that secures the iPad can rotate 90°, to put it in landscape mode if desired.
---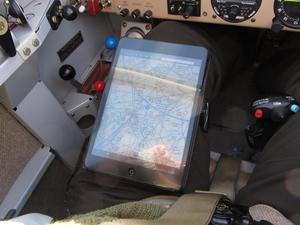 I tried the iPad Mini on the kneeboard in flight yesterday, and it works. Like the original iPad, the screen is readable at maximum intensity, but a bit more brightness would be appreciated. The smaller size of the iPad Mini is a big improvement.
---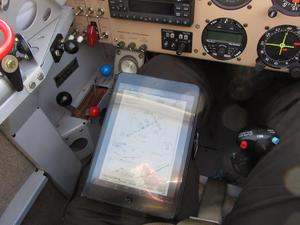 ---
I'll only use this case when I'm taking the iPad Mini in the aircraft, as it adds too much thickness. I'll stick with the Apple Smart Cover for day to day use. But, it makes a great kneeboard. And it'll protect the iPad well when I take it out of the aircraft. I like the $40 price much better than the likely $100 cost of the eventual MyGoFlight kneeboard. And it is available now.