Details

Written by

Kevin Horton

Hits: 706
The IO–360-A1B6 engine in our RV–8 has been making some metal. I first noted it when inspecting the oil filter after an oil change in August - I found roughly 50 shiny, ferrous flakes. I consulted Lycoming SI–1492D, which describes various types and amounts of metal one might find in an oil filter, and recommends action. Based on that recommendation, and after consulting with three Aircraft Maintenance Engineers (an AME is the Canadian equivalent to an FAA A&P), I flew the aircraft for two hours and checked the filter again. I counted 7 flakes, so I flew 10 more hours (I was away for most of the rest of the year, so this took until January). This time I found the rate of making metal had gone up quite a bit, and now I was seeing what looked like aluminum along with the steel, so I grounded the aircraft.
When I first found the engine was making metal, I feared it could be the cam. After finding aluminum too, I did some research, which lead me to wonder if it could be a broken piston ring.
I acquired a Vividia VA–400 borescope, and today I took a look in the cylinders.
Three cylinders looked pretty good, but #4 has a very strange, wide area where the cross hatching is not visible. This area goes all the way up the cylinder.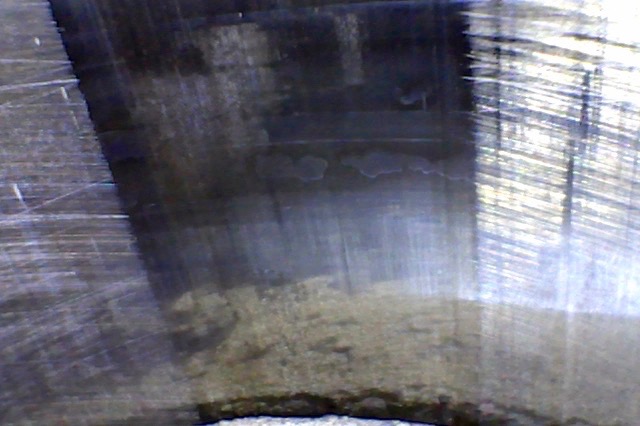 ---
At first I thought it might be a piston pin issue, but I'm pretty sure it is no where near the front or back of the cylinder (you can see the top plug hole, with borescope shaft through it, in the second photo). The next step is to find an AME to help me pull that cylinder to investigate.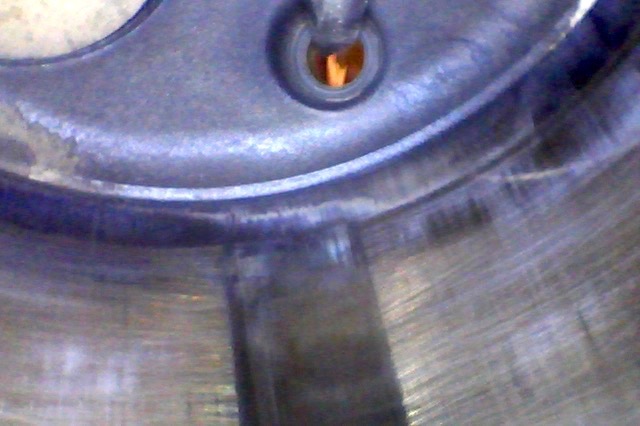 Details

Written by

Kevin Horton

Hits: 893
It's been a crazy three months. CSeries flight testing had me in Wichita almost continously from 21 Sept 2015 until 14 Nov, then home for a weekend, then a week in Montreal for testing in a simulator. The travel finally wrapped up three weeks ago, but I've been working long hours since then dealing with all the reviews to finish off the type certification approval program.
I got flying last weekend, and did some more Stratux ADS-B receiver testing, this time with all the bits packaged together into one glob, using plastic tie wraps to hold it all together. The two antennae bases were tie wrapped to the rest of the assembly. I climbed up as high as 9500 ft, but didn't pick up a single tower. I concluded that the antennae needed a ground plane to work properly.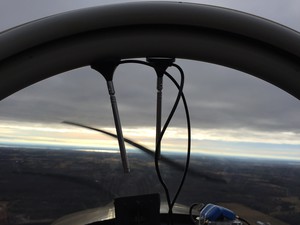 Yesterday morning I tried again, this time with the magnetic antennae bases stuck on the steel canopy bow. This wouldn't be a good place to have them permanently mounted, but it provided a quick way to provide a ground plane. I also tried with them sitting upright on top of the glareshield, but the magnetic bases are useless on aluminum, and they frequently fell over.
---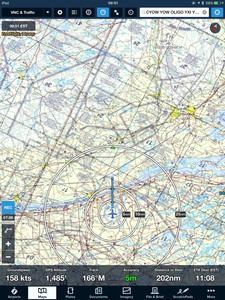 I was amazed to find that I was picking up one ADS-B ground station at low altitude shortly after take-off. I was picking up a station about 65 nm away at 1000 ft above ground! The station was lost as I climbed through about 1500 ft above ground, and reappeared as I descended through about 1200 ft. I repeated the climb and descent three times, and every time the station was picked up at low altitude, but lost when I climbed to 1400 ft AGL. This looks like a classical case of radio ducting, where a significant temperature inversion causes radio waves to bounce between ground and the top of the inversion in a narrow channel - this allows the radio signal to be picked up at low altitude when the transmitter should be well below the horizon.
---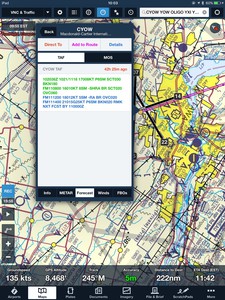 I climbed up to 8500 ft, picking up the station again as I passed through 5000 ft. I then waited until I had received quite a few weather reports, then checked to see what Canadian weather data was received. I found that the ADS-B stream contained weather forecasts for some major Canadian airports, but the data was over 24 hours old. No Canadian airport weather reports were seen. I have concluded that the US ADS-B data, while potentially very useful for flights in the US, is essentially useless for flights in Canada. I will continue to subscribe to XM Weather, despite the $60/month price tag.
Details

Written by

Kevin Horton

Hits: 1863
I got back yesterday afternoon from three weeks in Wichita, doing CSeries flight testing.
While I was in Wichita, I bought the parts to cobble together a cheap open-source ADS-B In receiver (part 2), based on a Raspberry Pi computer and two software defined radios. ADS-B In is widely used in the US to transmit weather info and traffic to suitably equipped aircraft. It would be quite useful when flying in US airspace, and possibly useful when in Canadian airspace (see ADS-B Primer).
Today I took the ADS-B receiver flying, to see how it worked. The receiver I assembled emulates the popular Appareo Stratus ADS-B receiver, so it is compatible with any device that can receive signals from such a receiver. I used ForeFlight on my iPad mini to receive and display the data.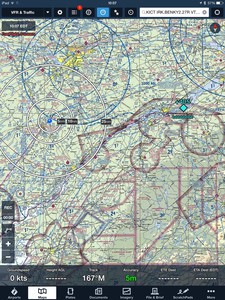 It was receiving transmissions from high flying aircraft on 1090 MHz when I fired it up on the ground. The cyan diamond represents the aircraft that was being received, and "+405" above the diamond means the aircraft was 40,500 ft higher than my aircraft, or 41,000 ft above sea level (Smiths Falls is just over 400 ft elevation).
---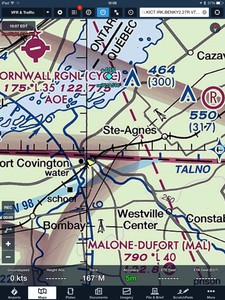 I zoomed in on the traffic awhile later, and saw the call sign below the diamond ("WJA518", or West Jet 518).
---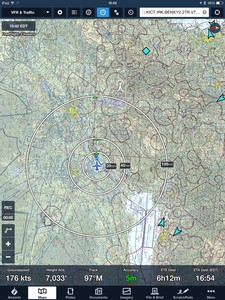 Level at 7500 ft, I was picking up signals from two ground stations. The ground station locations are shown the map with a while tower symbol.
---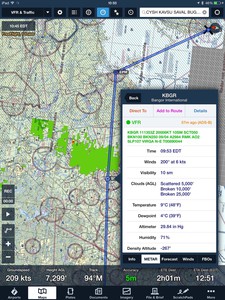 The system had local and national radar and weather reports and forecasts for US airports.
---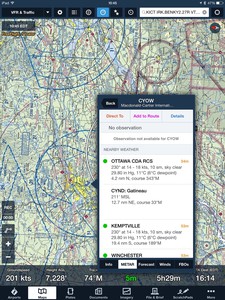 There wasn't any data for Canadian airports, but there were weather reports for numerous non-aviation reporting stations in Canada.
I had tested the system in Kansas, using the ground station at Newton, and it was receiving forecasts for Canadian airports. I'm not sure what the transmission interval is for the various data types. Maybe the Canadian forecast data would have arrived if I waited longer. In any event, airport weather reports are much more important than weather forecasts, and I saw no sign of those on either of these two tests.
If I was only flying in the US, it would be a no-brainer to stop spending $60/month on XM, but ADS-B probably isn't good enough to replace XM in Canada, as it has no Canadian radar data, and precious little other weather data. I'll use both ADS-B and XM Weather next summer, and then decide if ADS-B is good enough to stop subscribing to XM.
Details

Written by

Kevin Horton

Hits: 1818
A long time ago, I did glide performance testing, with the engine off and the prop windmilling. A week ago I finally did glide performance testing with the engine at idle, to see how much of a difference there was.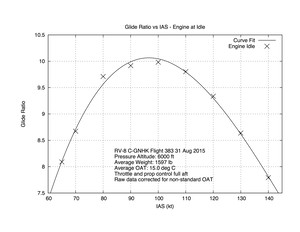 Both sets of testing were done at 1600 lb weight. The best glide speed with the engine at idle was about 96 kt, and the glide ratio was about 10.1:1.
---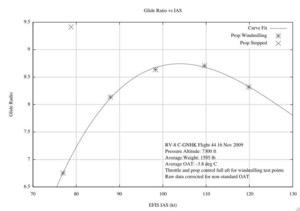 The best glide speed with engine off was about 104 kt, and the glide ratio was about 8.75:1.
---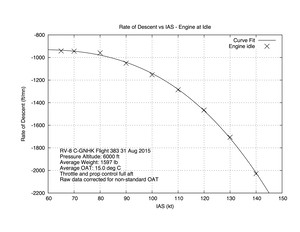 The speed for minimum rate of descent was about 65 kt with engine at idle.
---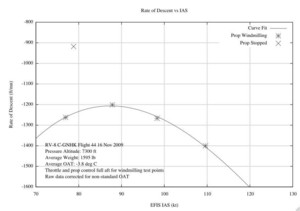 The speed for minimum rate of descent was about 88 kt with engine off.
Most builders conduct their glide testing with the engine at idle, but my results suggest that this gives a false impression of the speed for best glide and the glide ratio. In my case, the glide ratio is about 15% worse with the engine off, and the best glide speed is about 8 kt faster.
Details

Written by

Kevin Horton

Hits: 1032
I would have liked to go flying today, but the airport was closed for the annual Race the Runway event, the biggest fund-raiser of the year. The airport needs the income to pay the bills, so I won't complain.
The Race the Runway event allows Street-legal cars and motorcycles run a 1/2 mile course laid out on the 4,000 ft long runway. I was on parking duty from 0800 to 1400, so althougth I heard the sounds of the runs down the runway, I didn't see much.
The top speeds for the four years the event has run are:
| Year | Car | hp | 1/2 mile Speed (km/h) | 1/2 mile Speed (mph) |
| --- | --- | --- | --- | --- |
| 2012 | Porsche 911 Turbo | | 258 | 160 |
| 2013 | Lamborghini Aventador | | 258 | 160 |
| 2014 | Lamborghini Super Trofeo Stradal | 2000 | 330 | 205 |
| 2015 | Acura NSX | 890 | 277 | 172 |
The 330 km/h Lamborghini ran off the end of the runway at the end of his last run in 2014 - he didn't come back this year. The runway is only 4000 ft long, so 50 ft lost at the start before the timing starts, and the 1/2 mile acceleration only leaves 1310 ft for braking. If the driver has a 1/2 second reaction time after passing the 1/2 mile mark, he would need a deceleration of about 1.2g to get stopped - he got stopped after his first 330 km/h run, but not the second one.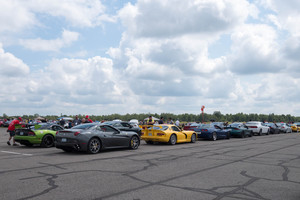 Here we see a long line of cars, waiting for their turn on the runway.
---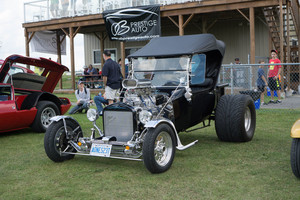 There were also quite a few of show cars on display, including this gorgoeus Ford Model T street rod.
---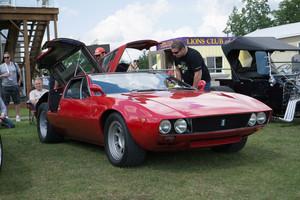 This rare De Tomaso Mangusta attracted quite a bit of attention.
---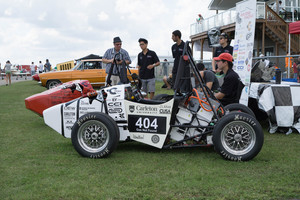 The Carleton University Formula SAE team was there, with their two cars - one powered by a 250 cc single-cylinder engine, and the other one electric powered.
Details

Written by

Kevin Horton

Hits: 1291
Yesterday was forecast to be another beautiful day, so Terry and I decided to fly to Bromont, QC for lunch. We had never been there before in the RV–8, but the new restaurant in the airport terminal building had very good reviews, so off we went.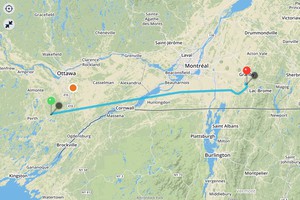 Bromont does not report weather, but it is in between Montreal and Sherbrooke. The weather in the morning was great in the Ottawa area, but Montreal was unexpectedly overcast at 700 ft, but forecast to improve mid-morning. Sherbrooke was clear. The Bromont weather was anyone's guess. Fortunately we can fly Instrument Flight Rules (IFR) - i.e. I can legally fly in cloud, so the possible poor weather was not a significant concern, as long as we had enough fuel to fly to an alternate airport with good weather, just in case the weather at Bromont turned out to be too poor to land.
We flew towards Bromont at 7,000 ft altitude, and could see the low overcast cloud below as we approached Montreal. We started to fly the instrument approach into Bromont, but the low clouds disappeared when we were about 15 miles from the airport, so we switched to flying visually and landed.
---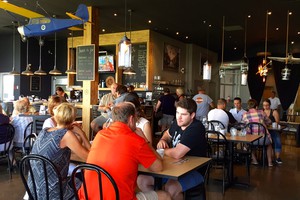 The airport restaurant, Bistro M, was extremely busy. It looked to be all local non-aviation people, except for us and the crew of the Challenger business jet who landed shortly after we did. The food was excellent - we will go back.
---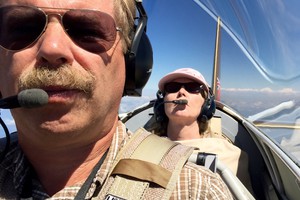 Terry was a bit tired after the tasty lunch, so she snoozed on the way home.