Details

Written by

Kevin Horton

Hits: 972
I had difficulties uploading items to the web site for a few days, but Arvixe got that sorted out today. So, here is the details of the time at Oshkosh.
This year's EAA Fly-In at Oshkosh had probably the best weather I have ever had in any of my 20 or so visits since the early 90's. It was warm, but not too hot and muggy, and it cooled off nicely at night so sleeping in a tent wasn't a miserable, sweaty experience. There were no thunderstorms the whole time we were there (there was a nasty one early Saturday morning, two days before the show started). No rain. No mud. There was enough breeze in the evenings to keep the mosquitos at bay, except for Wednesday evening, which was the night air show.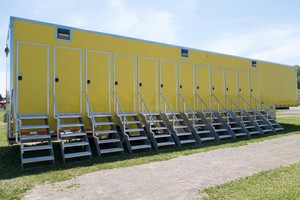 HomeBuilt Camping finally got a much needed upgrade to the shower facilities. They brought in two semi-trailer size portable shower units, each with 12 shower individual showers.
---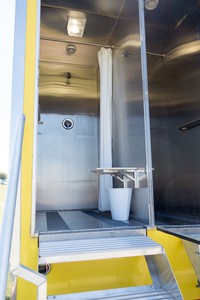 Each shower room had a change area, and a shower area.
---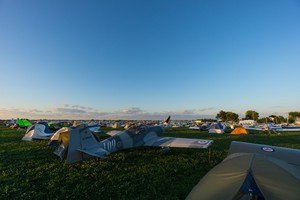 We were camped next to Tom Martin's smoking fast F–1 EVO Rocket. Tom has spent hundreds of hours making aerodynamic cleanup mods to improve his performance in the Sport Air Racing League. It was very instructive to study the various mods he has done to his aircraft.
---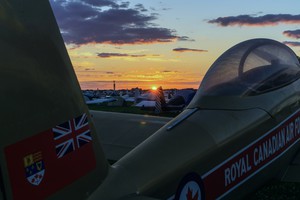 Sleeping in a tent probably means you wake up as soon as the day starts to break. Wednesday AM, I peeked out of the tent to see the start of a lovely sunrise, so I quickly got dressed and put the camera on the tripod, hoping to get a good shot.
---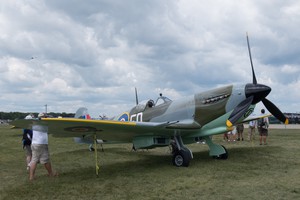 The nose of this "Spitfire" looked slightly off to me, so I took a closer look. I was very surprised to see no rivets. It is a 100% scale, Jurca MJ–100 Spitfire replica, with a 1300 hp Allison V–1710. This gorgeous aircraft won a bronze Lindy award for outstanding plans-built aircraft.
---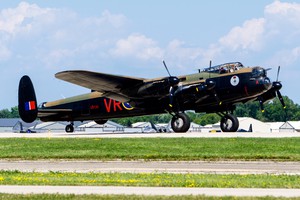 The afternoon airshow has a different lineup every day. Thursday had a heavier focus on warbirds, so I made a point of getting a front row spot to watch. The Canadian Warplane Heritage Lancaster looked great.
---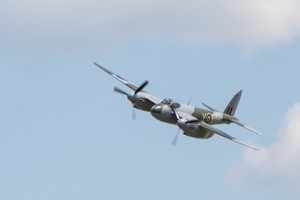 The Military Aviation Museum's Mosquito sounded fabulous.
---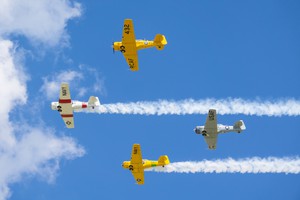 The 20 T–6 Texans (aka Harvard) pilots had obviously spent quite a bit of time practicing their formation flying, as all five four-ship sections looked very sharp.
Details

Written by

Kevin Horton

Hits: 672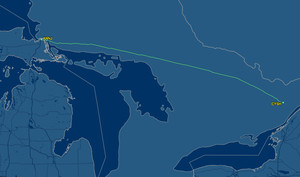 This year's trip to the EAA Fly-In at Oshkosh went extremely well all in all. Lee and I had a smooth trip to Green Bay, WI on Saturday, 18 July.
---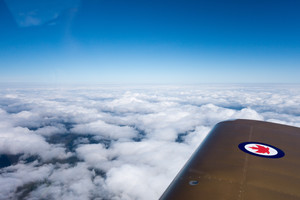 There was low cloud all along the route to Sault Ste Marie, MI when we took off in the morning, but it was forecast to gradually improve over the next two hours. We had a an alternate airport with good weather, in case the cloud did not lift, so we departed IFR. At the start of the trip, we were on top of the cloud at 8,000 ft, but the cloud tops got higher as we went west, so we climbed to 10,000 ft to keep out of the cloud.
---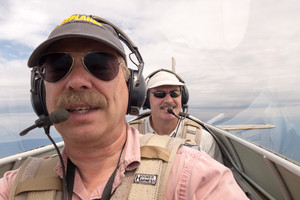 ---
I monitored the weather reports via XM Weather, and was happy to see that the cloud lifted as predicted. Sault Ste Marie, MI (KANJ), our Customs stop, had 300 ft ceiling when we took off, but it was clear by the time we arrived. The only negative point was the very strong headwinds, which had our ground speed down to 125 kt at times, so the trip took 2:52, rather than the typical 2:40.
There was an area of thunderstorms going through northern WI and upper Michigan, which I was watching warily on the XM Weather, but it was eventually clear that it would pass well south of our route, so I relaxed.
---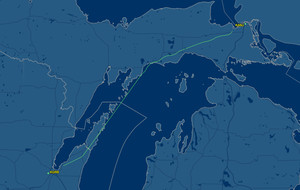 We quickly cleared US Customs, refuelled, ate out sandwiches, then departed for Green Bay, WI.
---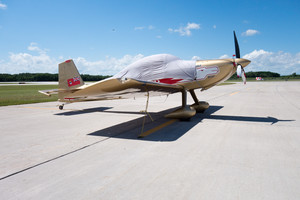 We arrived in Green Bay to sunny skies, and tied the aircraft down for the night. The forecast overnight thunderstorms failed to materialize, so the aircraft didn't even get wet.
---
Sunday morning we zipped down to Ripon to start the Oshkosh arrival procedure. As we approached Ripon, we saw a long line of aircraft coming up from the south, but there was a good gap between #1 and #2, so I slipped in to that gap. Then I noted that the aircraft I was following had twin tails, indicative of an [Ercoupe][], not known for a good turn of speed. But, he managed to maintain about 85 kt (the procedure calls for 90 kt, or the max possible if the aircraft cannot maintain 90 kt). I managed to get a very good landing (you hate to have an ugly landing at Oshkosh, with thousands of people watching).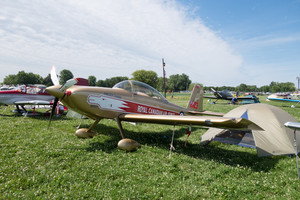 After landing, we got the aircraft tied down and set up our tents.
Details

Written by

Kevin Horton

Hits: 513
I didn't get any RV–8 flying in last weekend, as I was in Salina, KS for several days doing some CSeries flight testing, getting back home on Wednesday.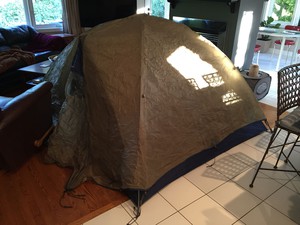 I've been checking all my Oshkosh camping gear the last two days, and hope to be on my way in that direction Saturday morning. The Master Plan is to fly to Green Bay on Saturday, with a coworker in the back seat. We would spend the night at one of Terry's sister's house, and fly to Oshkosh first thing Sunday morning.
The weather picture isn't the best for our usual route via Sault Ste-Marie, MI, so we may have to take the longer southern route around the bottom of Lake Michigan. Or, we may wait a day or two, as the weather looks better on Monday and Tuesday.
Details

Written by

Kevin Horton

Hits: 558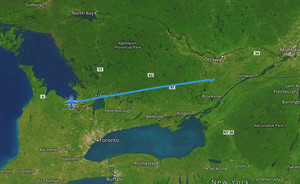 My schedule this summer will start getting pretty crazy soon, so I need to take time now to do anything I want to be sure I can do. I took Monday off to fly to Collingwood, ON to visit my brother Ron, who I hadn't seen since last year.
---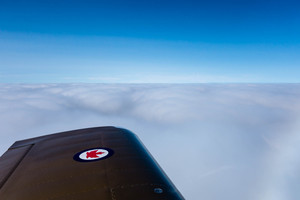 It was IFR in the Ottawa area, with about a 400 ft ceiling at Smiths Falls, with several mile visibility underneath. The reported weather was much better to the west, and it was clear in the Collingwood area.
I got airborne on schedule at 0745, and climbed to 8,000 ft, which put me just on top of the cloud. It was nice to see the sun.
---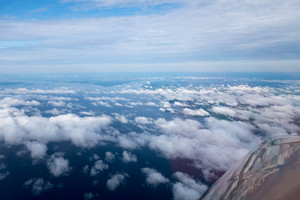 The clouds below were breaking up by the time I got to Lake Simcoe, north of Toronto. This is the view to the left of the nose, with the cowling on the right side of the picture. I cancelled IFR, and landed in Collingwood just before 0900.
---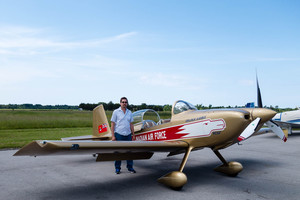 It was good to see Ron again. He took me on a tour of his collection of unserviceable aircraft (five in total, unless I missed one). He specializes in buying aircraft at a cheap price, then discovering why they were so cheap. If anyone has a dodgy aircraft they need to sell at a "too good to be true" price, call Ron - he is your guy :). He hopes to get at least one of them flying next year (mind you, that is what he said last year too).
I flew back home late in the afternoon. The weather had improved quite a bit, but I still went IFR, as it is so much easier than navigating the airspace VFR.
Details

Written by

Kevin Horton

Hits: 955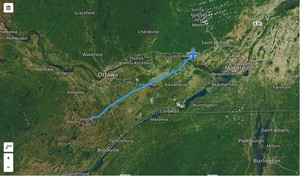 Terry and I flew to Lachute, QC (CSE4) today, to visit RV–4 builder Scott B.
---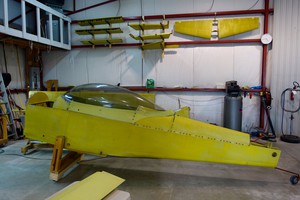 Scott is just about done the structural aspects of his RV–4 project.
---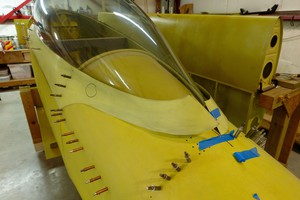 ---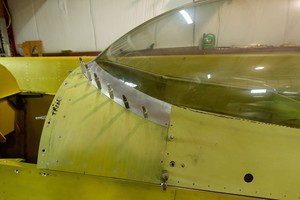 ---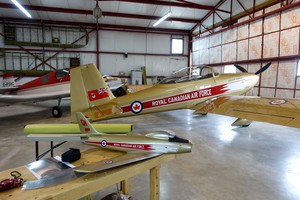 Scott was an avid RC aircraft enthusiast, and has this gorgeous Sabre in Golden Hawks colours, powered by an electric ducted fan. He made it from scratch, and then sold a few dozen kits.
---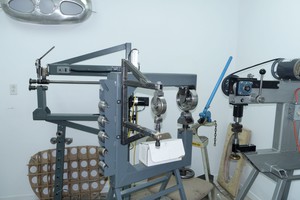 Scott is an extremely talented metal basher. He has an English Wheel, a power planishing hammer, and a bead roller, all hand made by Scott.
---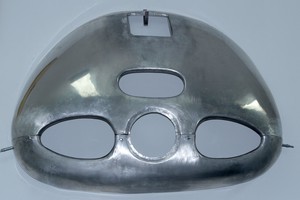 His talents can be seen in the alumnum nose bowl he made.
---
After we finished talking at the airport, Scott took us to a very tasty lunch at Café L'Infusion in the town of Lachute. Thanks Scott!
Details

Written by

Kevin Horton

Hits: 541
I had a great visit time in Yarmouth for four days, but Thursday the weather picture suggested that this was the right day to head home. I usually try to fly non-stop from Yarmouth to Smiths Falls, but that becomes less enticing if the headwinds are too strong, or the weather in the Ottawa area a bit dodgy, as it is good to arrive with a fair bit of fuel if the weather is not so good.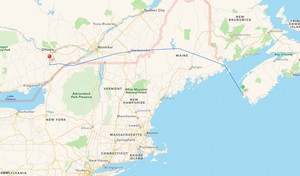 On Thursday, the predicted headwinds would drive the non-stop flight duration up to about 3:20, and there was an approaching frontal system which could have meant a need for an instrument approach after arrival. Thursday morning, I pondered the large coffee I had just consumed, then decided to break the trip in two pieces, with a stop in Sherbrooke, QC, about 2:00 into the trip.
---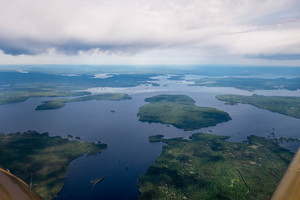 Here we see Moosehead Lake, the largest lake in Maine.
---
That coffee was beginning to talk to me by the time I got to Sherbrooke, so I was glad that I had decided to stop. After refueling, I had a great omelette in the airport restaurant, then did the last 1:20 flight to Smiths Falls.
---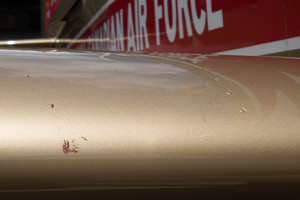 After getting home, the first task was to clean off the bugs from the trip. They come off fairly easily, if you don't let them sit for too many days.
---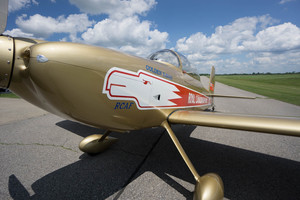 Wide angle lens look.
---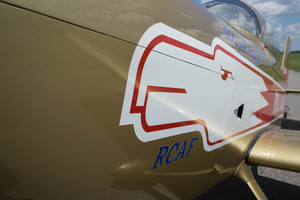 Wide angle close-up.
---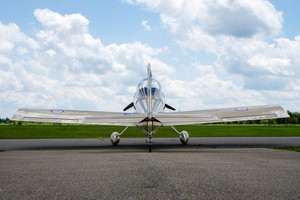 After dealing with the bugs, I decided to play around a bit with the camera.