Details

Written by

Kevin Horton

Hits: 841
I took yesterday off from anything related to RVs, as I had spent the previous eight days at the airport. Today was another sunny day, so I went flying again - another 2.5 hours in the vicinity of the airfield.
Before the second flight, I pulled the cowlings to inspect for leaks or anything else amiss. I found one small oil leak in the vicinity of the prop governor, but it isn't clear where it is coming from. This looks exactly like the mysterious leak I chased for the last several years. Oh well. I also found a loose connection at the fuel pump vent line. I pulled the oil filter, cut it open and inspected it. It looked completely normal, with the expected very small number of tiny metal pieces, typical after an overhaul.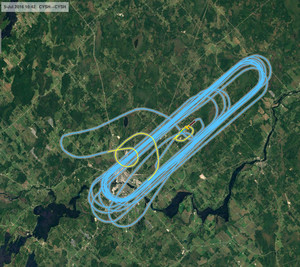 The flight itself went well, but it was pretty boring staying within gliding range of the airport. I'll go a bit further afield now, but won't stop at another airport until I get at least 10 hours on the engine.
Details

Written by

Kevin Horton

Hits: 1095
I finally got the RV–8 flying again today - the first flight since late January. The engine had been at Aerosport Power since late March. They were ready to ship it back in mid May, but I needed to pay the bill first, and we were on the road on vacation in Alberta and BC. I paid the bill after we got back home at the end of May, and the engine arrived on June 8th, shortly before I left on a two week trip to Viking in BC. I went to the hangar every day after I got back, but it was steaming hot in the afternoons, so I would eventually melt down and stop for the day.
I had it ready yesterday afternoon for a ground run to check for leaks, but the starter barely cranked it over, so it never started. Slow cranking has been a recurring problem, and in the past it has always been caused by a bad connection in the power or ground paths somewhere between the battery (in the rear fuselage) and the engine.
This morning I cleaned and tightened every connection in the power and ground circuits, and now it cranks like crazy. I did a ground run just before lunch to check for leaks, check ignition systems, prop governing, engine instruments, etc. Everything check out, so after lunch I did the first break-in flight. I used the profile recommended in Lycoming Service Instruction 1427B - 60 minutes at 75% power, then 60 minutes alternating between 65% and 75% power, then 30 minutes at max power. Of course, now that I look for a link to SI1427B, to put in this post, I find that it was superseded by SI1427C, which no longer has the final 30 minutes at max power.
The aircraft and engine were working well. I need to adjust the oil pressure slightly. It was in the normal range, varying between 66 and 71 psi, but I'd prefer to see it closer to 80 psi. I'll tweak the pressure relief valve before the next flight. I'll also pull the cowlings to check for leaks or anything else amiss, and cut open the filter to check for metal.
It was great to get the RV–8 flying again! Now I need to reteach it how to land. The landing was OK, but not as tidy as I would like. Something to work on before Oshkosh at the end of the month.
Details

Written by

Kevin Horton

Hits: 2420
I spent several days last week in Sidney, BC (Sidney is just north of Victoria, on Vancouver Island), working with Viking Air on a Twin Otter project.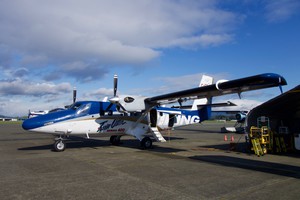 The Twin Otter is an iconic Canadian twin-engined bush aircraft, that was built by de Havilland Canada (DHC) from 1965–1988. The original aircraft were in such high demand that wrecked aircraft were being rebuilt around the original data plate. There was obviously a market for additional Twin Otters, so Viking bought the rights to the design, and restarted production in 2010. The current production aircraft are essentially equivalent to the ones built by DHC, except for a major avionics upgrade and a different variant of the PT6A engine.
The Twin Otter is an amazing aircraft - it flies like a large Cessna 172, but has a very well designed wing and flap system that allow it to get into and out of very short landing areas.
I'll be doing several more trips to BC to fly the Twin Otter before we get to the end of this project. It should be a good spring!
Details

Written by

Kevin Horton

Hits: 1868
Well, quiet retirement life didn't last long. I had planned to take a few months off, then start looking for part time work as a contract test pilot. I hadn't actively solicited any projects, as I wanted a clean break with my work at Transport Canada, with no possible hint of a conflict of interest. But, I hadn't kept my plans a secret, and word percolated through the industry.
Thursday was my last day at TC. Friday morning the phone rang, with an offer of a flight test job on an interesting project that would last a few months. I spent much of Friday afternoon on a teleconference learning about the project, and discussing how I could help them. Monday we reached agreement on the terms of the contract, and I had a signed contract in my hands on Tuesday. I'm leaving on Sunday for the first block of work. I won't share any details yet, as it isn't clear how much info the company has made public about this project.
Details

Written by

Kevin Horton

Hits: 836
Glenn C. kindly offered to add me to the insurance for his RV-7A, so I could have an occasional RV flight while our aircraft is out of service. We took advantage of today's great weather to get a flight to check me out in his aircraft. Glenn has a very nice aircraft, and I look forward to flying it over the next two or three months.
Details

Written by

Kevin Horton

Hits: 560
I did a major update on the software that runs this web site yesterday evening. Everything seems to be working, but it is always possible that users may stumble across some issue that I have not yet found.
Please inform me if anything is not working so I can track down the problem and fix it.