Details

Written by

Kevin Horton

Hits: 5095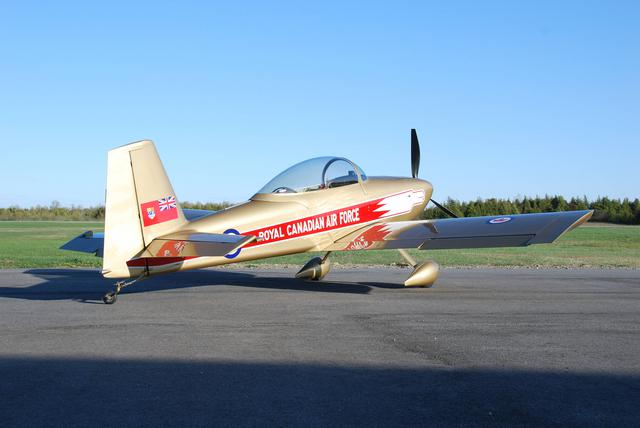 This blog covers the construction and flying of a Van's Aircraft RV–8, built and flown by Kevin Horton.
I had thoughts of someday building my own aircraft from the time I was a teenager, but never took it beyond the fantasy stage until after arriving at Cold Lake, Alberta as a freshly minted test pilot. One of the other test pilots there was building an RV–4, and he told me fantastical tales of the performance and flying qualities. I did some research, and learned that Richard Van Grunsven (Van), had designed a very well loved all-metal single seater, the RV–3, followed by the two-place tandem RV–4, and the two-place side-by-side RV–6, all with tail-wheel landing gear. And then the RV–6A, with tricycle landing gear. All models had a good all-round performance and were reputed to have excellent handling. I was tempted, but the time wasn't right. As always, there were one or two things to get done in life first, and then the time would be perfect.
A few years passed, and I eventually realized that as soon as you got one of those roadblocks out of the way another one appeared, and the "perfect time" never arrived. If you wanted to get something done in life, you just needed to get started.
One day I learned that Van had come out with the RV–8, which was two-seat tandem like the RV–4, but with much more baggage space, 10 gallons more fuel and a wider cockpit and instrument panel. I had visions of quite a bit of cross country flying, possibly in Instrument Flight Rules (IFR), so baggage space, fuel capacity and a large instrument panel were all attractive. This was the trigger I needed to get off my butt and start this grand project. I did a demo ride at Oshkosh in 1997, and was very happy with the aircraft, so I ordered the tail kit.
I looked at the tail kit as the litmus test - I would use it to see if I enjoyed the building process. If I did, I would continue. If not, I would sell the tail kit and drop the idea of building an aircraft. I found that the building process was very enjoyable, and was good way to relieve stress after a busy day at work. I carried on, doing a bit at a time, like the proverbial mouse eating the elephant. And one day, many years later, I had an aircraft. And it flew.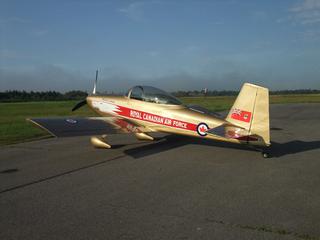 Construction started in the fall of 1997, and first flight was almost 11 years later in August 2008. The beautiful Golden Hawks paint scheme was finally done in the spring of 2010.
The aircraft has about 230 hours on it now (May 2013), and Terry and I have finally started to do some regular traveling with it. We took it to the huge EAA Fly-In at Oshkosh, WI in 2010 and 2011. I got to Sun n Fun in 2012, and we have flow it to Nova Scotia and Wisconsin several times. I try to fly the aircraft every week that I am home, if the weather cooperates.
There are a few more pictures of the aircraft in the C-GNHK Photo Gallery.
Scroll down for the latest detailed news.
Details

Written by

Kevin Horton

Hits: 88
I've fixed the Search function on this site.
I had noticed a couple of weeks ago that it wasn't working, but couldn't figure out why. Today, out of desperation, I read the documentation, and found that the content indexing had gotten fouled up when I moved the site to a new host. It was an easy fix once I knew what was going on.
Details

Written by

Kevin Horton

Hits: 82
I'm way overdue for an update to this site, so here goes.
I was contacted by a friend in July 2017, who informed me that they were looking for experienced test pilots for the Mitsubishi MRJ program in Moses Lake, WA. I signed on to the program in September 2017, and immediately started a prolonged series of back to back courses to do all the steps required to obtain a Japanese Airline Transport Pilot License. This process kept me busy until Christmas.
Terry handled the packing and moving while I was off on training, and we set up house in Moses Lake in November. There was no free time to fly the RV–8 out there before winter hit, so it is in storage in Smiths Falls. I'll take some time off in the spring to fly it west.
Moses Lake is fairly small town in a very dry area on a plateau between the Cascade Mountains and the Rocky Mountains. It only gets about 9 inches of rain annually on average, so there are usually blue skys. The airport was used as a B–52 base before Larson AFB was closed in 1966, so it has a very long (13,500 ft) and wide runway. The good weather, long and wide runway, and little air traffic make it a perfect place to conduct flight testing.
Details

Written by

Kevin Horton

Hits: 246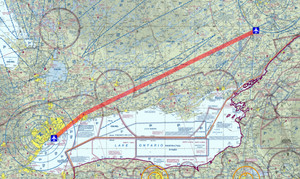 Today was a rare combination of good weather and Terry and I both being free of other commitments, so we flew out to Toronto for lunch. Toronto City Centre Airport (CYTZ), on Toronto Island, in the harbour right next to downtown Toronto, makes a great destination, as there are myriad nice eating places within walking distance once you take the ferry or walking tunnel to the mainland.
---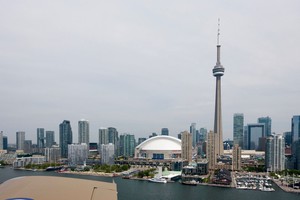 Final approach to runway 24 took as right by the CN Tower, Sky Dome and dozens of condo towers.
---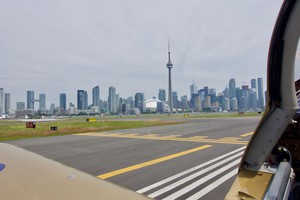 We had a great view of downtown Toronto while waiting to cross runway 26, after back tracking to the button of 24 (the taxiway at the west end of runway 24 was closed for construction).
---
We had a fantastic lunch at Le Select Bistro, which is a great North American interpretation of a French bistro (the original version would have the tables jammed much closer together, to get twice as many customers in the same space, but otherwise it is pretty close).
---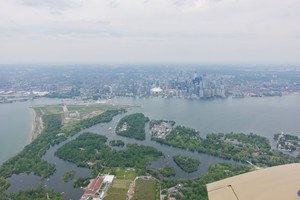 We had a great view of Toronto Island, the airport, and downtown Toronto after taking off on runway 24, then circling Toronto Island to head east.
Back home, on downwind for runway 24 at Smiths Falls (CYSH)
Details

Written by

Kevin Horton

Hits: 333
Winter seemed like it would never end, but we've finally come out the other side. Terry and I were both available today, and the weather forecast looked promising, so we planned the first fly-out lunch of the season. Heading east wasn't an option, as a cold front went through over night, heading east, and the weather wasn't great that way. Our first plan was to fly to Toronto Island, right next to downtown Toronto, and walk into town for lunch. But, it looked like it wouldn't be warm enough to sit outside, so we decided to push that trip later in the season.
Edenvale, about 50 miles north of Toronto, was next on the list. We've flown there several times, and always enjoyed the food at the airport restaurant. The restaurant has changed hands since we were there last, but the new incarnation was getting even better reviews.

---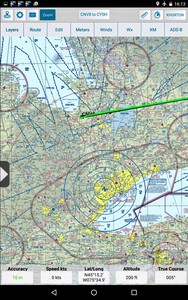 ---
The weather forecast was so good that I decided to file VFR, to allow a low cruise altitude, as the head winds at our typical IFR cruise altitudes was forecast to be 40 kt, or more. I checked the weather before leaving the house, and it was clear pretty much everywhere. It had started to cloud over a bit by the time we arrived at the airport, but another weather check showed it was reported as clear everywhere else. We launched, and found it very bumpy underneath the cloud, but there were quite a few large holes, so we climbed on top to find smooth air. XM weather was now showing that airports ahead were reporting overcast conditions which was a problem. I called ATC and switched to an IFR flight plan, and climbed to 8000 ft. 45 kt headwind, gave a 115 to 120 kt ground speed - ouch. We broke out at 3500 ft on approach, cancelled IFR and landed.
Lunch was fabulous. Tilly's 2 in Edenvale is highly recommended.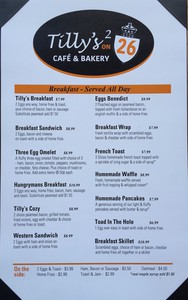 ---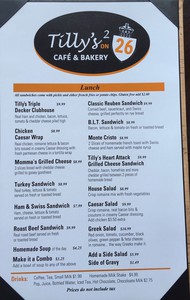 ---
We went up to 9000 ft on the way home, and got 50 to 55 kt tailwind. We hit 200 kt ground speed during the cruise climb, and it averaged about 215 kt once we levelled off. 215 kt = 247 mph or 398 km/h. Even from 9000 ft, looking down at the ground, you could see that were really smoking along. Needless to say, the trip home was a lot quicker than the one there.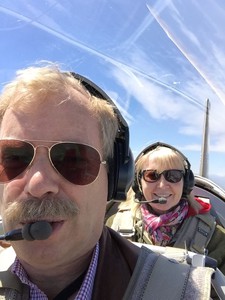 Great day!
Details

Written by

Kevin Horton

Hits: 2021
One of the maintenance items I checked out on Saturday was the tailwheel steering. There was a very illuminating thread on the Vans Air Force forums recently. The original poster had ground looped his RV–8 while landing in a moderate right crosswind. Luckily, nothing was damaged except his ego. He wasn't 100% sure what had triggered the ground loop, but he suspected that the tailwheel may have unlocked from the tailwheel steering during rollout.
The ensuing discussion was quite interesting, as it highlighted a potential issue with single-are tailwheel steering linkages, as is fitted to our RV–8. It seems that the typical geometry of these linkages puts the bellcrank at the tailwheel pivot at a different angle than the rudder horn where the front end of the linkage attaches. This results in more tailwheel travel to one side than to the other, and this may cause the linkage to unlock at full rudder travel.
I check our tailwheel on Saturday, and sure enough, full left rudder turns the tailwheel far enough that the unlocking cam disengages it from the bellcrank at the pivot. In principle, the tailwheel should remain locked to the linkage at full rudder, unless you tap the brake to tighten up the turn, in which case the spring in the linkage allows the wheel to turn further, causing it to unlock.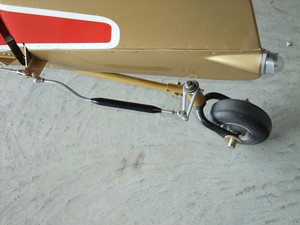 ---
I played around with the available adjustment in the linkage, but it was not possible to set it up so that it would remain locked at both full right and full left travel. I studied the geometry and concluded that there are two possible fixes.
Purchase or fabricate a tailwheel pivot bellcrank that has the end of the arm swept back further, so the line between the pivot and the end of the arm is parallel to a line between the rudder hinge and the forward end of the steering linkage.
Purchase a longer rod end for the steering linkage and drill a new hole for the front end of the arm. The new hole would be further ahead on the rudder horn, which would make the angle between the rudder hinge and the linkage arm attachment close to parallel to the angle between the tailwheel pivot and the aft end of the linkage arm.
Note: This issue is not present if the builder uses the two chains and springs that Van supplies with the kit. I had tried those, but found that the chains hit the bottom of the rudder fairing, which prompted me to switch to the single-arm steering linkage.